estee lauder double wear foundation
clinique airbrush lumiating concealer
soap and glory brow archery
borjouis setting powder (under eyes)
nyx wonder pencil (around lips and water line)
sleek contour kit
revlon photoready cream blush in No. 200
lancome hypnose mascara
l'oreal lineur intense eyeliner
nyx xtreme lip cream in nude peach fuzz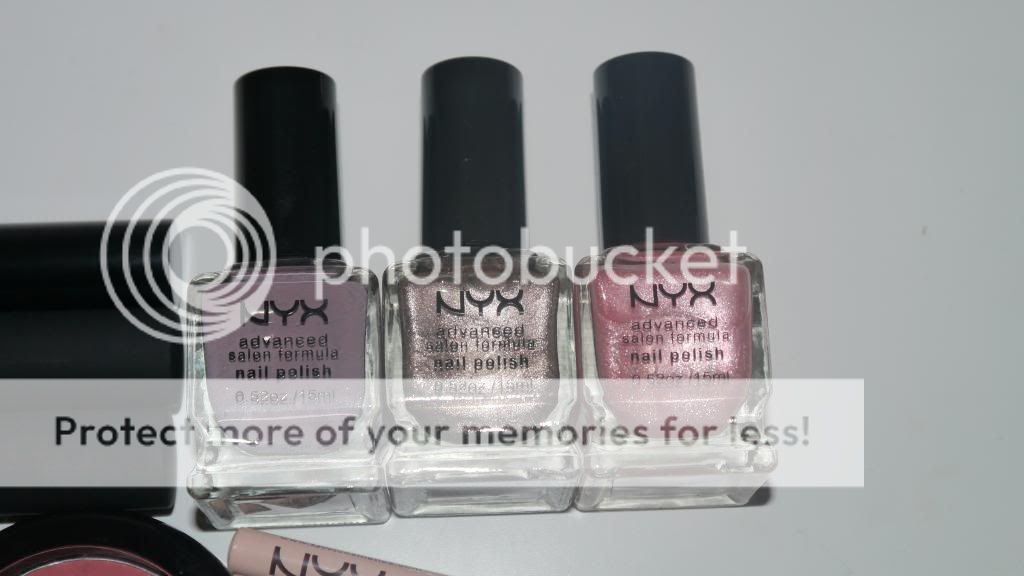 nail polishes (l-r) in taupe, smooth operator & winter
xtreme lip cream in nude peach fuzz
soft matte lip creams in san paulo & antwerp
cream blushes (l-r) in glow and rose petal
pencil wonder in light/clair
- Hope there isn't too many images, and that I haven't made this too wordy! But this is my face for Monday and a mini nyx haul. I thought I'd do them together as I don't have much to say about the nyx items... except for the fact that these 3 nail polishes come free, every £10 you spend on nyx you get a free polish (up to £40.) I've been dying to try the soft matte lip creams for ages, as well as the cream blushes as gabriella rose featured them in her favourites of the year.
i picked up the wonder pencil on a whim and i absolutely love it, it's great for lining your lips when you haven't got a matching lipliner as it stops your lipstick from running but doesn't compromise the colour, as well as being useful for your waterline to make your eyes appear bigger.
- Didn't do an awful not today, took a trip to Primark with my nan where she kindly bought me a few bits and bobs that I needed, I might film a haul on that but there isn't an awful lot to show and it's mostly bed sheets & pj's, and an adorable cord skirt that was only £3.
- I adore this eye brightening concealer, I think it's clear in the pictures that my eyes look a hell of a lot brighter.